Birth Trauma Treatment for You and Your Baby
Was the birth of your child exactly how you wished it would be?
Or did the transition from pregnant to parent leave you feeling upset, confused, or unfulfilled in some way – even if you and your baby made it through the experience both healthy and safe?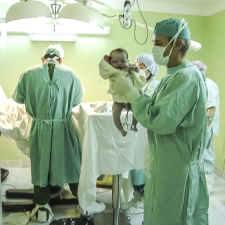 Do you ever feel badly for feeling like something was missing in the birth transition?
You are not alone. Many women and their partners are told it is somehow selfish to feel this way, especially when their baby is healthy, and mom is physically recovering well. Many of us are well-trained to believe that the way a baby is birthed into the world is unimportant.
But research suggests otherwise. Birth trauma treatment is not something that is generally well-known, but it can be extremely beneficial for you and your baby.

The baby's early times in the womb, the way a mother births a baby, and the period of time after birth can all have long-lasting effects on many things, including the baby's nervous system and feelings of safety in the world, the mother's confidence and mood, and the attachment relationship, to name a few.
Partners may be equally affected as well.
The important piece is not that a birth didn't go as hoped for, but that, with skilled help, those pieces that weren't as positive can be repaired for both the baby and the parents.
Birth trauma treatment for your family can help the family off to an easier start.
The repair of birth trauma can set the family unit up for the best chance of success, resolving attachment issues, restoring confidence and calm, and providing more joy in an otherwise stressful or confusing time.
Don't wait to seek out help for these challenges. Your relationships with your child and partner are likely some of the most, if not the most, important relationships in your life. Nothing is more critical than helping them off to their best possible start.
Contact me today to schedule your free birth trauma treatment phone consultation.
*For those with a newborn, who live in the Boulder area, home visit sessions are available.