Grief Counseling
Have you lost a loved one or a cherished relationship? Has the death of a friend, parent, or child left you bereft? Has a divorce or the end of an important relationship crushed your heart?
Perhaps you have experienced a loss that is hard to talk about with others, because it isn't readily accepted as a "big" loss in the culture – maybe a miscarriage, or the death of a pet. Do others' well-meaning words feel rather empty, or leave you longing for real understanding and empathy? Grief counseling can help.
Living in a culture that struggles to navigate loss and grief can be a real challenge when you feel like the rug has been pulled out from underneath you.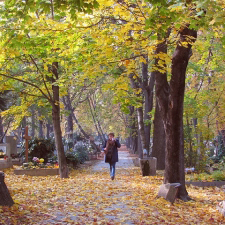 We may pretend that everything is fine, and not share our true experience. Maybe we feel that we don't want to burden our friends or family with our loss. Maybe we are surrounded by others who are also dealing with this loss, and it has been too painful to try to work through it together.
We may dive headlong into work or another relationship in order to escape the pain. We may try to numb ourselves with food, alcohol, exercise, or technology, hoping that the less we feel our pain, the sooner it will disappear.
But these escapes will only take you so far.
There is no way around grief. You need to go through it to the other side.
When you need to work through a loss, you don't have to feel as though you are alone.
But whom can you turn to? 
I can help you transition through your loss and find a new sense of resiliency. Sometimes it takes working with someone who has been there in the darkness, and who has made it through to the other side, in order to feel that you really have an ally on your journey. A skilled grief counselor can help.
Contact me today to schedule your free grief counseling phone consultation.